Through my research at the Marshall Space Flight Center and continued development as part of my undergraduate honors thesis, I have chosen to publish my PX4 Development Kit for Simulink. This toolkit includes a configurable dynamic model for a wide range of multicopter configurations, as well as a more complex position control system using a Kalman filter for navigation estimates with velocity updates provided by a downward facing on-board camera. The PX4 provides greatly improved processing power in a conveniently sized and inexpensive ARM based 10-DoF flight controller. Please contact me if you have something that you would like to see added or corrected. Click on the picture below to view and download the guide. Beneath the guide you will find download links for the latest version of the toolkit.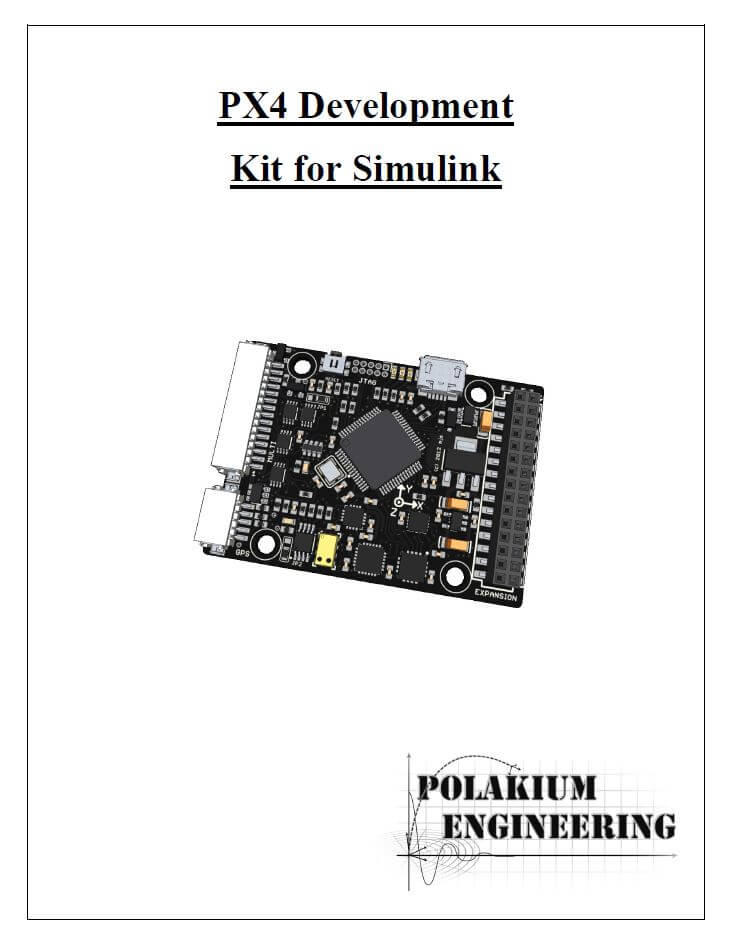 Requires MATLAB 2014a with Embedded Coder
This project is a work in progress. Files and documentation are subject to frequent changes.
Now available as a product support package from MathWorks
PX4 Simulink Development Kit Download
8/03/2014 - v0.60b
- Simulink now automatically handles rate transitions
- updated model

7/22/2014 - v0.51b
- updated to latest firmware and toolchain
- reduced size of firmware archive
- improved pwm arming sequence

7/18/2014 - v0.50b
- fixed startup script for use with PX4FMU (No IO shield)
- verified full compatibility with PX4FMU and Pixhawk

7/15/2014 - v0.40a
- added GPS support
- updated startup script

7/03/2014 - v0.30a
- updated to latest firmware
- inline parameters to fix boot failure
- improved sensor noise characteristics 
- updated simulation GUI with scale slider
- replaced experimental navigation system with simple PID ACS

4/24/2014 - v0.22a
- updated to latest firmware

4/18/2014 - v0.21a
- updated to latest firmware
- new customizable startup script for PX4FMU, PX4IO & Pixhawk
- further memory optimization
- added Pixhawk RGB LED support
- cleaned up wrapper code

4/02/2014 - v0.20a
- updated to latest firmware
- updated makefiles for PX4FMU v1 and Pixhawk v2
- new startup script with mavlink output to QGC
- memory optimization
- added timestamp to debug outputs
- fixed missing 25Hz loop

2/01/2014 - v0.11a
- added brushless motor transfer function
- added script to generate brushless motor transfer function
- added LiPo battery model
- simulation code optimization
- modified solver
- improved altitude control system

1/20/2014 - v0.10a
- initial release